---
Continuing Damian Beeson Bullen's Retrospective adventure thro' the Birth of Britpop: The Oasis gig at Tjs, May 3rd, 1994
---
The train jump to Wales was a dead easy affair… a simple buffet-trip pass-by move on the conductor found us sitting in the Dead Zone (the area where he had already swept), smiling widely, the next stop Wales. I'd nicked the first ever copy of glossy new lads mag 'Loaded' from Manchester WH Smiths (59,400 actually bought the magazine), & was eagerly gorging on the laddisms – I was a lad, too, a young impressionable one, but still a lad. So was Nicky actually, maybe more of a geezer than a lad, but still fuckin' cool. Marketed with the tagline "For men who should know better", Loaded was originally published by IPC Media, took its title from the Primal Scream song & was the natural, cooler evolution of the worldscape defined by Viz & its readership. "What fresh lunacy is this?" went its opening editorial, "Loaded is a new magazine dedicated to life, liberty and the pursuit of sex, drink, football and less serious matters. Loaded is music, film, relationships, humour, travel, sport, hard news and popular culture. Loaded is clubbing, drinking, eating, playing and eating. Loaded is for the man who believes he can do anything, if only he wasn't hungover."
One of the highlights of the magazine was an ambitious young actress, the 27 year-old English Rose that was Elizabeth Hurley, looking tough, sultry & damned sexy. "I'm forever being offered roles," she complained, "where I wear a low cut dress, mini skirt, have dirt on my face and an AK47 in my hand driving a porsche but whats the point?" Not that famous at this point,  she'd been in Beyond Bedlam – its terrible, shes great – & one of the Sharpe episodes (Sharpe's Enemy). Her boyfriend was an equally unfamous Hugh Grant – Four Weddings & a Funeral is a few weeks away yet – & in the magazine Hurley complained that while in Russia she found Madonna hitting on Hugh.
Back in my wee world we passed through Cheshire, Shropshire & Gloucestershire before pulling in to Bristol one early afternoon in late April. From there we jumped on a big intercity that was heading to Cardiff, which was so advanced in it's journey the conductor was sat on his arse… then we came to Newport. Following a cursory inspection of the town to our surprise we found it looked just like England. In a record shop window we saw a poster advertising an Oasis gig in Newport in a week or two…
"Buzzin, we've gotta go!"
From Newport we caught a train a little train that wound through North through the valleys. Here we were in the heartlands of Wales, where the hills echo the sweetly sung songs of the miners & the chief occupation of the women was getting pregnant as soon as possible & living off benefits. This job reminded me of Liverpool's main source of income… accident claims. Deeper into those trench-like vales we found ourselves in a small town not far from Blackwood. We went to Michelle's & were welcomed with a slap-up feast. Suitably fed we caught a couple of buses & arrived in an obscure village. There, she introduced us to her friend Lisa, who gave us the keys to her pad & scarpered. So that was us in Ynyssdu!
Ynyssdu! I still can't really believe I lived there…. What a mad litter place. Firmly entrenched in the valleys, home for a few hundred mad Welsh, it sported a rugby pitch, Mobile chippy & shop. I didn't see many leeks & I didn't hear much singin', but the people were friendly & accomadating, even the very kind woman in the shop giving us credit when we went hungry. Across an Iron bridge over a little river you could walk along a grassy, disused railway that once used to take the coal from the valleys to civilisation. Our home stood on Commercial Street, me & Nick living downstairs & two crazy Welsh guys upstairs. We shared a kitchen, although all they ever seemed to eat were brown sauce butties. Our own fare was hardly better, oven chips, sausages, plumbed tomatoes & fish fingers… a hell of a lot of fish fingers. Everytime we our jumbo-sized box of fish-fingers back in the freezer we dossed a bit on the new-fangled Magnetic Poetry set that Lisa had left on the fridge. Hundreds of tiny fridge magnets with random words typed onto them suddenly became amazing poems. Or that was the theory, me & Nick just competed to make up the rudest sentence we could. There was also Mari-mari. He was a little budgie left behind in the flat & we soon grew hardened to his constant tweetin. It was nice to have a pet & before too long we were firmly attached to the little fella… we were like a family!
A couple of fifteen-year old schoolgirls soon collared us & we were invited to babysittin sessions with them… booze, spliffs & snoggin ensued but me & nick positively refused to assist their quest for child benefit money & housing benefit… but they were dead sound all the same. On a couple of occasions we went to the one-screen cinema in Blackwood, all sat snogging & fumbling in the dark. We saw Ace Ventura rescue the Miami Dolphin's pet Dolhin (reyt funny) & creased up at a showing of Cool Runnings & the Jamaican Bob Sled team's Eddie the Eagle Edwards style efforts to win gold at the '88 Calgary Winter Olympics… again, reyt funny.
For cash we signed on up in Blackwood, about fifty quid a week pocket money seeing as we had no rent to pay. Enough for spliffs on the hillside, pool down the pub & our munchies. Michelle's mate had left us a stereo, so we listened to Supersonic & this tape that Michelle had given us. It was Bjork's solo masterwork Debut – released 5th July 1993 – one of the first albums to introduce electronic music into mainstream pop. We instantly fell for her quirky, haunting voice as she grooved away through tunes such as the opening throbbing wonder of Human Behaviour & the epic glory of Big Time Sensuality, which made my ultimate DJ set. An "anthem to emotional bravery," featuring a bouncing riff sampled from Antônio Carlos Jobim, it contains lyrics described as "simple but passionate", concerning Björk's relationship with her co-producer Nellee Hooper.
The hard core, & the gentle,

Big Time Sensuality…
I also got to know one of Michelles' arty mates, Lisa. She lived in a nice cottage & lent us a casio keyboard to make some tunes on. One day, whilst waiting for our smoke to arrive, we were struck by the muse & expressed ourselves in song, Mari-Mari tweeting along to the tune. Weed is a clear classic… drawin on the classical three chord turnaround, CFG, we told the story of a simple country boy caught by the fuzz, locked up & needin a smoke. We got the chorus from a vocal Nick buzzed off down the Orbit… here's the lyrics;
Way back when I was a farmer
Growin some marijuana
In the middle of a bush-like-field,
Smokin all the crops I yield,
And you don't know what I need,
Yes you don't know what I need,
I need some weed…
Herb a weed an a
Weed a gange an a
Ganja a weed an a
Weed a marijuana
I sold some ganja to my lover,
She was a copper undercover,
Now I drink water with my bread,
Don't have a reefer to ease my head,
And you don't know what I need,
Yes you don't know what I need,
I need some weed…
See what I mean, a clear classic, which ended up as part of one of the songs in my 'Alibi' musical.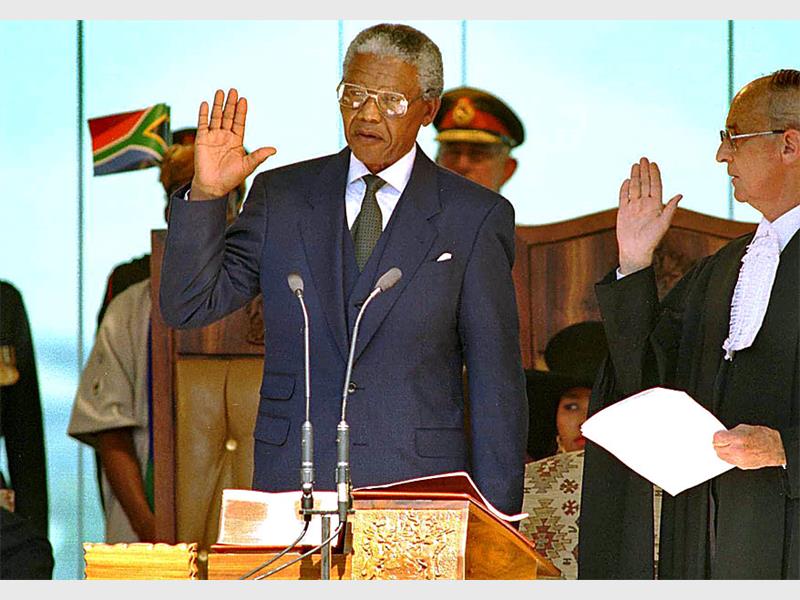 Splashed all cross the headlines at the time were the forthcoming Presidential Elections in South Africa. (26-29 April) For decades that vasty country swathed across Africa's southern tip had been the problem-child of global harmony. Apartheid had not eased a fundamentally racist system, where an Imperial white minority once again kept an indigenous people shackled in semi-slavery. But the age of Empire had passed & eventually the voices of the native blacks & a contemptuous world boomed too loudly & Nelson Mandela was freed. He became the leader of the African National Congress & was put up for election… & a democratic one at that. A landslide was expected & despite a series of bombings by anarchist neo-nazis attempting to disrupt them, he became the first black president of South Africa. As he was being sworn in dignitaries from all across the world sweltered in the African heat, but everyone of them was happy as the world seemed to step into a new era of harmony. The three centuries old flag was furled, a new flag raised & the decolonisation of Africa became complete.
In the world of comedy, on Sunday 24th april, the British elite all turned up at Saddler's Wells Theatre on behalf of the Terrence Higgins Trust to promote safer sex in the early days of the fightback against AIDS & HIV. Steve Coogan was just at the dawn of his immeasurably brilliant career, while the Spitting Image puppets were at the end of theirs.
On the arrival of a giro we caught the bus to Newport on a combined scouting & shopping mission. As we passed thro Ynyssdu's neighbouring village, Cymfeilanfach (pronounced cum-vel-lin) we noticed how much the word looked like Come for a feel and a fuck… called the latter from that moment onwards. After an hour or so of Southerly winding we arrived at Newport. It's not that bad a place, & I liked the bridge that spans the river. The shops were cool enough & from a record stall at the market I got two tickets for the Oasis gig… After a Maccy Dees we wound back home & slapped on Oasis…
"I'm feelin Supersonic
Give me gin & tonic"
So, the day of the Oasis gig had come, the 3rd of May 1994. Ayrton Senna had died at San Marino on Mayday, only a day after his friend Roland Ratzenberger had died on the same course. About the same time the dodgy guy from upstairs rolls down Commercial Road in a funky little green Datsun. We didn't ask where it came from, but bought it fer thirty quid. Nick loves his drivin, how many a cruise had I shared with him buzzin about our homelands. After putting in two pounds worth of petrol we rode the road to Newport… the bus journeys now a distant memory. After parking up we admired our green steed then went to scout out TJ's, where the gig was gonna happen. It was yer typical small town venue… a stage, a dance floor & a bar, with rock-stars & album covers plastered across every inch of wall space. We found out the time it all kicked off & headed back out into sunshine. Just as we did so a big white van with Salford van hire emblazened across it pulled up outside the venue. The doors slid open & who would cockily burst out onto the pavement but Mr Liam Gallagher. He was inside the venue in a flash, followed a little more casually by Bonehead & Noel. Further up the street we met the rythym section, Tony MaCarrol & Guigsy, munching on a Maccy Dees.
"Good luck with the gig fellas!"
 "O… cheers!"
They said with the novelty of being stopped & recognized in the streets of a foreign country… something they would have to get used to very quickly. These rapscallions from the back stage of Burnage simply had the knack of getting through to normal people They were unpretentious in a pretentious kind of way. When they needed a verse for the soon-to-be-released Shaker Maker, for example, Noel Gallagher found himself pulled up at some traffic lights outside Mr Sifter's second-hand record shop in Manchester, leading to the spontaneous lyric;
Mister Sifter sold me songs
When I was just sixteen
Now he stops at traffic lights
But only when they're green
Wildly unoriginal, their music is a museum of British pop culture – Beatles, Kinks, Clash, Sex Pistols – its all there somewhere, woven together by Noel's great ear for melody & his brother's unbelievable swagger & voice, it was a winning combination.
People coming down here on a Tuesday, its raining, and it's like this is gonna be a mega night, it happened to me when I went to see the Roses, know what I mean, to be part of summat
Liam Gallagher
Before they'd reached Wales, the boys had been on an extensive tour of smallish venues across Britain; Lucifer's Mill, Dundee (5th April), La Belle Angel, Edinburgh (6th April), The Tramway, Glasgow (7th April), Middlesborough Arena (8th April) The Wheatsheaf, Stoke (11th April), The Duchess, Leeds (12th April), The Lomax, Liverpool (13th April), The Adelphi Club, Hull (29th April), Coventry University (30th April) The Wedgewood Rooms, Portsmouth (2nd May). It was TJ's, Newport, next – & me & Nick were gonna be there!
TJs was a legendary nightclub which became a symbol of the city's burgeoning music scene – dubbed at one time as 'the new Seattle' by New York Times critic Neil Strauss. Founded in 1971 by the late John Sicolo, the venue's stage has been graced by some of the biggest names in music history, developing a reputation that also led DJ John Peel to dub it 'The Legendary TJs'. For many gig-goers, TJs was a cultural melting pot – a venue that gave unknown bands a chance while providing an electric atmosphere, a community and a place to meet musical heroes.
TJ's was voted one of the top 50 'Big Nights Out' in the world by FHM in December 1997. TJs closed down a few years ago, but its 'spit and sawdust' vibe – there was no stage, it was eight-inches off the floor – was fondly remembered by the thousands who ventured into its den. There is even a myth that Kurt Cobain proposed to Courtney Love on the night her band Hole played TJs in 1991. Catatonia filmed their single "Mulder and Scully" at the venue while other bands which played at T.J's early in their careers include Manic Street Preachers, Green Day, The Offspring, Lostprophets, Iron Maiden, The Stone Roses, Muse, Primal Scream, The Vandals, The Ataris, and Skunk Anansie.
Oasis had formed in 1992 when Liam Gallagher & Bonehead formed a band called Rain. Apparently they weren't very good, but when Noel Gallagher turned up in Manchester, flush with cash after roadieing on the Inspiral Carpets US tour, things were about to get better. After playing the other Burnage boys Live Forever they were bowled over enough to let him take over the band. Kitting them out with good gear with his wages he proceeded to write the stuff of Definitely Maybe & gig like hell until that fateful day in Glasgow when they met the Creation Records Uberfuhrer, Alan McGee. He basically fell in love with the fellow drug monkeys that were the musical version of Ade Edmonson & Rik Mayall in bottom, & the rest is history
We've got quite a lot of female interest at the moment through the band. Backstage in the dressing room at this one London gig there was this really good looking girl, man, & she says, ' Do you want me to like, do anything for you?' So I said, yeah pass us a beer out of the fridge will you.
Noel Gallagher
After smoking a few spliffs in the balmy evening' air we handed over our tickets & found ourselves in the gloomy depths of TJ's. The roadies were setting up the gear & checking sound, while the club begin to slowly fill up… very slowly. On the floor of the stage a roadie taped down the set list & I checked it out. Supersonic was down, as was Ciggarettes & Alcohol, both tunes I knew. Then at the bottom I saw I Am the Walrus scribbled down.
"Yo Nick, they're playin the Beatles!"
 And on they came, the fifty or so punters not really sure what was gonna happen. They barely spoke a word as they thundered through their set, tune after tune of crunching guitars, loud drums & Liam's crackling chaunt. Proper buzzin. Miles better than some dodgy rave or a cider-drowned hootenanny. So this was Rock 'n' Roll… cool!
I am The Walrus came on to finish, & we had a bit of a dance, as were most of the other fifty or so folk, buzzin' off the rythmic handcuff swagger of the Mondays dash'd with & slobbering splash of crunchy guitars… then all of a sudden… "Cheers… good night!" And then they were gone. The club emptying in a sort of semi-daze, but all acknowledging that Oasis weren't bad at all. Outside, Nick skinned up a spliff while I bought a couple of cans of lager & we chilled out under the stars. All of a sudden the temperature dropped & we decided to drive home. Unfortunately, back at the Datsun she wouldn't start.
"Must be petrol…"
Said Nick & we pushed a mile through the lamplit streets of Newport til we found a garage. In to the tank went our last two quid & I stood nervously waiting while Nick turned the ignition… nothing happened. Luckily enough, a guy who recognized us from the gig passed by. We explained our predicament & he took us to a student party. There, we smoked the last of our weed & talked about the gig with other guys & it was all kinda cool. However, some guy spewed in some other guys bed & we all got kicked out.
"What shall we do now!"
"We gonna have ter sleep in car!"
"Yer jokin!"

"What else can we do?"
 It wasn't the best nights sleep we've ever had, scrunched up in the back of a datsun, no coat on & cold as fuck. It wasn't quite sleeping rough but it was pretty damn close. After a few uncomfortable hours Dawn broke & we were at the bus station waiting for the bus. I retold our story to the driver, of how we had bought a Datsun, how we had been to a gig, how we'd had to sleep in the car & how we had no cash.
"On yer go boyos!"
And we were away. On getting back to our little room it was the first time we'd valued it as a home… & it was good to be back. I turned round to Nick, & with a cheeky smile said,
"Yo Nick, we live in fuckin Wales!"
---
TEENAGE FUNKLAND
———