---
Concluding Damian Beeson Bullen's
Retrospective adventure
Thro' the Birth of Britpop
---
On a  Friday in late June, 1994, as the festival was kicking off we were just over the Bristol channel & back in Ynyssdu. Our plan was to cash our giros, buy some weed & get to the party. Unfortunately, the dodgy guys upstairs had fuckin cashed them, scarpered somewhere & left us with about a fiver in our pockets. We also had a letter on the mat saying our tenancy was up that weekend & could we kindly fuck off, seeing as we weren't supposed to be there in the first place.  We opened up a window & Mar-Mari's cage so she could escape to liberty, & like birds ourselves flew into an uncertain future. Perhaps it was time to go home, but we had come so far & had never let a lack of funds stop us before. The next morning we packed up our things & set off for the festival.
The journey to the site took us thro Cardiff & Bristol & on to Castle Cary train station, all curtesy of some top-notch train jumping. At Castle Cary we could hear the dull throb of the music coming from the distance, which was in fact several miles away. Luckily some local farmer in a range rover picked us up & drove us to the site. So we had arrived, but had no money & no way of getting in. We had heard about climbing over the fence for free, & indeed this is what I would do for the next few years until they turned it into Alcatraz, but that still wouldnt have solved our cash flow crisis. Then it struck me – the previous year I had got my gran to deposit some money in Burnley police station & I drew it from some cockney station – like an immediate emergancy bank.
 "Scuze me officer, me & Nick have lost all our cash & tickets on the train!"
"Better come with me then son!"
…he said, & led us to the police compound. We were a little unnerved by it all, but a few phone calls later Nick's mum had deposited some cash in Barnoldswick & we were on our way to Shepton Mallet, about six miles from the site. There we picked up some cash, a few supplies & rerurned to the site again, where a very kind policeman let us in to the festy. A superb result & soon we had our tent up, scored some weed off a guy from Barlick who was a couple of tents away, & roaming the festy.
The sun was beating down on us as we wandered about, wide-eyed. All the cool kids of the country were there, the mod-ish girls were wearing bloke's shirts, v neck jumpers, jeans & doc martins, while the lads were sporting addidas trainers, orange cords & tight stripy t-shirts with no logo. The rockers all had long hair & were still wearing their Manics & Nirvana t-shirts with pride. There was alos the huge, obligatory hippy contingent, who had all dobbed in over the fence to give the atmosphere its unique flavour (& smell). Those who go to a more corporate, money-grabbing, Glastonbury these days are only feeling a small percantage of the true felling of the place – after all it was born from a few hippies bouncing naked round a field, surviving on acid & the free milk Michael Eavis used to bring down from his farm.
Are you gonna wake up then, yeah? Yeah? Some real songs
Liam Gallagher, Glastonbury 1994
We had a smashing couple of days at our first Glasto on Worthy Farm  – the year of the legendary Orbital gig – a revelutionary gig that changed the nature of the festival. Brothers Paul and Phil Hartnoll played uncompromising, uncut, complex but fantastically thrilling electronics, their heads bobbing up and down inside their control tower with only their trademark torch spectacles visible like two extraterrestrials. Techno bled into drum'n'bass into dream-like abstract reveries, and some 40,000 people roared the Hartnolls on, bringing to life the paradox of dance music: there's nothing so human as machine music. A year later Glastonbury had a Dance Tent. Now it has a whole Dance Village.
Next photo by Simon Marsh
1994 also saw Oasis on the brink of greatness playing second on the bill at the NME Stage, early afternoon on Sunday, sandwiched between Echobelly and west Midlands' Nirvana-sampling hip hop crew Credit To The Nation. In the sunshine I mused on a crowd far in excess of that first time we'd seen them only a few weeks back in Newquay. I was even singing along to the tunes.
It's so early on for them, in fact, that Noel's not even doing any backing vocals. Instead, he has to walk over to Liam's mic whenever he wants to address the crowd. Other interesting points from the vid include the alternative lyrics to 'Shakermaker'. "I'd like to teach the world to sing in perfect harmony / I'd like to buy you all a coke to get you off your tree". & Noel walking offstage before the rest of the band after final track 'I Am The Walrus', leaving Bonehead, Guigsy et al to finish the song by themselves – just like in Newquay – Totally cool. No goodbye, no smiles, no nothing.
That Sunday really did see the birth of Britpop – after Oasis came Pulp, then if we neatly skip Radiohead (never liked them) at night was Blur. You just had to be there! While security buzzed about on quads between marauding squads of hari-krishnas, clutching their walkie-talkies like lances,  Bjork was beautiful as ever in an identical but different coloured outfit from Brixton, the full on hippified Stone Circle blew my mind – & we even got on the telly. Elsewhere on the site, a 92-year-old Pilton villager, keen to see Johnny Cash, was honoured by festival organisers with a prime spot.
Me & Nick drifted into a small tent for a spliff to find Keith Allen being filmed doing a balloon dance to nudity for Channel 4. In the footage the 18 year old me is sat laughing with Nicky – proper evidence we were there among the local farmers quaffing scrumpy & the dodgy Mancs muttering 'hash-speed-acid-best on site geezer' to the winds.
80,000 had officially bought tickets at £59 a pop, but of course many had snook in. I went to every Glasto myself up til 2000, after which they increased security to keep blaggers like me out. In those 7 years I'd only ever paid a Scouser £5 to hop over the fence with his ladder. One year I'd even used a sewer. You left your bags outside, went in & got your exit stamp as you left the site to get your bags – wonderful!
Glastonbury has got this tradition of caring. I would have liked to have been here when it started. Now, like everything else, it's turning into a theme park.
Anthony Lee, a 23-year-old volunteer on the Big Issue stall for the homeless
---
It was 1994 at Glastonbury that I had the greatest confirmation Of my path. That's when the spiritual reality became and the reality of consciousness and healing dimensions became visible to me. Without Glastonbury Festival i would never have found my healing gift. I was thinking back to the days before everybody had a mobile phone, Glastonbury Festival had phone booths in the Greenfields, No one had a smart phone and internet access didnt exist. People were climbing under the fence, over the fence by their hundreds and the festival population was even more massive as a result. It was always wild before the Super Fence went up. But always deeply Magical. It is the Healing Fields that I have the deepest reverence for, even in the Sodom and Gomorrah years it was a Heaven of safety and tranquillity, thats one of the reasons I was so determined to be one of The Healing Fields Spiritual Healers. Of course I miss being there its the Festival that awakened me to Healing Grace. But my circumstances are and this year I cannae be there. Jennifer Juniper, Elizabeth Dallas, Sarah Birdsall. My Heart is with you in the Healing Fields. Mark Divine Calvert
---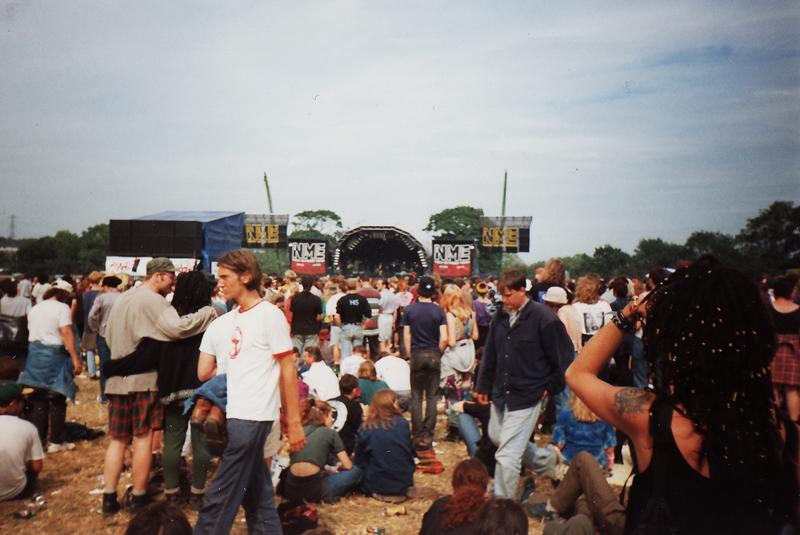 Back in 1994 on the Saturday night there was a shooting incident involving five people when a man began firing a .45 semi-automatic pistol in a drugs-related fight near one of the stages at 10pm on Saturday – but no one was badly hurt.  There was also the first death in the Festivals history when a young man – , a Londoner aged 23, died in the early hours from a drug overdose.
There has been more violence this year than we've ever had before, but the overriding mood is one of a peaceful event.
Michael Eavis, Glastonbury 1994
Music wise, the line-up reads like a litany of 90s genius – Radiohead, Blur, Björk, Rage Against The Machine, Peter Gabriel, Nick Cave and The Bad Seeds, Elvis Costello, Pretenders, Pulp, Blind Melon, Manic Street Preachers, Jackson Browne, Beastie Boys, James, Paul Weller, Spin Doctors, Chumbawamba, Spiritualized, Elvis Costello And The Attractions, Orbital, Nick Cave, The Lemonheads, Dwight Yoakam, Ride, Meshell Ndegeocello, Tindersticks, M People, L7, Levellers, World Party, The Boo Radleys, Oasis, St. Etienne, Grant Lee Buffalo & Echobelly.
We left Glasto on a high & probably still high & got ourselves to Newquay. We didn't know where the girls were staying so we just made a big WE ARE HERE x D&N out of seaweed on the beach until they turned up. We then had a jolly good time for the rest of the week – me & Jane & Nick & six girls… sun, sea, surf, snogs & booze & weed & just an all round good time. Then it was time to say bye & we headed back to South Wales. Our rent at Ynysddu was almost up & we'd decided we didn't want to stay in South wales any longer.
There was time for one last mission. Camping on Barry Island with a tent, spending our last funds on a pint to watch the World Cup. England weren't even in it, so what was the point, an appropriate metaphor for our own summer of love – our heads weren't in it anymore & it was time to go home – so we did.
---
TEENAGE FUNKLAND
To Sir Nick
Lord of all Barlick, Lancs, MBE, MBO, BO,
Bachelor of the Farts, Super Chick-in
Puck-aaaaaaaaaaaaaaaaaaaaaaaaaa!
Nick, 'diddliddling,' my bestest friend,
Do you remember our eighteenth summer,
When it felt the good times would never end
And Barry Island the only bummer.
That Ynnysddu flat, "Weed," birds & wimmin,
"Blowin' a reefer on Salisbury plain,"
Newquay, seven chicks, soap, sun, surf, swimmin
Our first Glasto – you gotta go again…
Saw Bjorks debut, Newport's Supersonics,
Peer Gynt play Stratford, Burnley rule Wembley
Massive crowd in Brixton for the Manics
And that mad, May night in Monmouth, where we
Sat with the Roses and the album new,
"Don't think it's as good as the first," said you.
---
TEENAGE FUNKLAND
———